band from Sweden





========NEWS=======



Sanctifica is playing fast and brutal metal. Since the release of the "In The Bleak Midwinter" demotape back in 1997 Sanctifica has got another guitarist and a new keyboardist and developed a lot musically.

Sanctifica is signed to C.L. Music Publishing / Little Rose Productions and a full length album was released in March




========BIOGRAPHY=========



It all started back in 1996 when Hubertus (guitars) and Daniel (drums) was searching for a bassist for their deathmetal band. Sanctifica was founded when Alexander joined them. We played our first show in November 1996 together with Extol, Antestor and a local deathmetal band called Obsecration. After that show Alexander left the band and was replaced by Jonathan, who at the time also played guitar in Obsecration.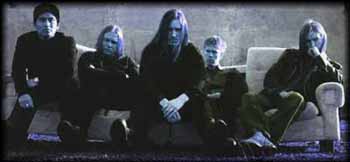 In the beginning of 1997 the musical direction of Sanctifica changed to more blackmetal direction. A keyboardist was needed and Alexander joined again, but this time handling the synths. In October 1997 Sanctifica entered the studio to record their demotape "In the bleak midwinter", which was produced by Carljohan Grimmark of Narnia. It contained 5 songs.

After that, Alexander left the band once again. For a while we had Martin Claesson from Narnia as a session keyboardist, but later Alexander got in the band again, filling in until we found a keyboardist of our own.

Early 1998, Henrik joined us as a second guitarist and in July 1998 we made a trip to Norway to play at the DP festival. After that, Sanctifica were on hold for a while until finally, in early 1999, Aron joined us on keyboards, and we had at last a complete lineup.

In September 1999 we entered the studio again, to record four songs to send to different labels and sell if no labels was interested enough. Though we did not need to wait long. The rumors spread, from our producer to Christian Liljegren (vocalist in Narnia, and also Hubertus brother). That resulted in Sanctifica getting signed to CL Music Publishing and Little Rose Productions. So some days before christmas we entered the studio again and recorded 4 more songs. The album was released the 24th of March 2000. Look out for this release.






read more on the band at: SANCTIFICA





HOME | NEWS | SITE INFO | MAGAZINE | OUR RELEASES | MAILORDER | LINKS | EMAIL