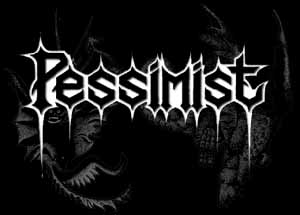 US black/death metal band




========LATEST NEWS======


IN THE STUDIO:

Pessimist recently returned from Omega Studios where they recorded "Phantasm" for upcoming POSSESSED tribute CD "Seven Gates of Horror" on No Mercy Music (formerly Immortal Records) of Poland. This massive compilation will also feature CANNIBAL CORPSE, VADER, EXHUMED, SINISTER, ABSU, ANGELCORPSE, GOD DETHRONED, KRABATHOR, DIABOLIC, HOUWITZER, SADISTIC INTENT and more!!! Stay tuned for release date.

NEW MEMBERS ANNOUNCED: After searching the underground for several months we are able to announce permanent replacements for previous members! Many thanks to temporary bassist Eric Little and drummer Joe Roffeld for doing their best to fill in under the circumstances...

Joining the band on drums is Dave Breazeal, of grind band TROKKAR. Dave played on the recent POSSESSED tribute, and also played drums in one of Kell's former bands, Tampa FL area CAULDRON (whose singer Matt Barlow later joined ICED EARTH.) Also new to the Pessimist lineup is bassist/vocalist Ralph "Reaper" Runyan, of NJ-based death metal band CORRUPTURE, who played a crushing set at March Metal Meltdown 2000. Both of these new members bring with them the skill, experience and dedication necessary to take Pessimist to the next level.



=========BIO===========



Pessimism is, by definition, the overall tendency to take the darkest and most negative view of the world. In particular, the doctrine or belief that the evil in the world outweighs the good and that all things ultimately tend towards evil. For those obsessed with the obscure and twisted ways of humanity's existence, Pessimist delivers the message of darkness.

Spawned from the ashes of several notorious underground bands from across the country, Pessimist was first conceived in Los Angeles 1989, with the 4-track demo "Tunnel Vision". After relocating to the East Coast, the first official lineup was complete in April 1993, and Pessimist immediately began playing live shows.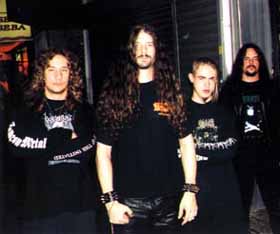 After recording the "Dark Reality I & II" demos in '93/'94, the band was plagued by several initial lineup changes. In spite of this, the core of the band remained solid and went on to record the underground classic 1995 EP, "Absence of Light" which secured them worldwide notoriety in several zines and their first distribution deals with Stage 3 Productions [RIP], Visceral Productions and Wild Rags.

Pessimist has always continued to forge onward, defying the typical boundaries of the Death Metal genre. Their style of extreme Black/Death Metal is brutal, dark and evil-sounding yet totally unique, featuring the chilling harmonies, haunting tempo changes, and sheer heaviness that have made their name legendary throughout the underground.

Some of the bands that Pessimist has played shows with include Deicide, Suffocation, Incantation, Cryptopsy, Oppressor, Krisiun, Broken Hope, Nile, Gorguts, Internal Bleeding, Malevolent Creation, Vader, Monstrosity, Testament, Forbidden, Overkill, Deceased, At The Gates, Pyrexia, Fleshgrind, Dying Fetus, Angelcorpse, Lividity, Insatanity, Mortal Decay, Acheron, Brutality, and Napalm Death...this is not even including fests, where they have shared the stage with the likes of Morbid Angel, Immolation, Cannibal Corpse, and Emperor.

At the dawn of the new Millenium, Pessimist is poised once again to reign over the Black/Death Metal scene with the thunderous 1999 release of the new CD "Blood for the Gods" (already hailed as a masterpiece), which soared into the CMJ Top 20 nationwide, and received the coveted "Pick of the Issue...10 Fucking Skulls!" in SOD Magazine #13.
Despite the band's success, 1999 brought yet further lineup changes, and the band is now in its 3rd complete incarnation, featuring incredible musicians with the skill, dedication and vision to take Pessimist to the next level. New material is already being written for CD #3 which promises to be the most devastating ever, and plans are currently in the works for a year 2000 US and Brazilian Tour.





=======RELEASES======



Keep an eye out for Pessimist appearing on the following comp CDs: Necroplis Records/PIT Magazine (USA), Oskorei (Norway), Brutallica (Bulgaria), Larmbelastigung (Germany), and Ancient Cermonies (Portugal).

The POSSESSED tribute CD "Seven Gates of Horror" for No Mercy (formerly Immortal Records) of Poland will feature Pessimist doing "PHANTASM" and will also feature CANNIBAL CORPSE, INCANTATION, VADER, SINISTER, ABSU, GOD DETHRONED, KRABATHOR, DIABOLIC, HOUWITZER, SADISTIC INTENT and more!!!

TheFull Moon Productions tribute to KREATOR features a Pessimist version of "The Pestilence" from the Pleasure to Kill album along with other ungodly metal bands KRISIUN, ANGELCORPSE, ACHERON, and ROTTING CHRIST. For full details and order info, check the Full Moon web site.



read more info on the band and try to chat (if you find someone else too!): PESSIMIST official site





HOME | NEWS | SITE INFO | MAGAZINE | OUR RELEASES | MAILORDER | LINKS | EMAIL