black metal label from Norway



Where do we start ? Let's try; Satyricon have established themselves as one of the world's leading Black Metal bands. Known for being an unafraid band that /s never scared of taking chances, speaking their mind and taking new steps in order to help the genre develop itself. Controversy, extravagance, progress, extremity, all keywords for Satyricon. Rebel Extravaganza is like this.

It takes the whole genre one step forward, both when it comes to the musical side and the artistic expression. This album is extremely hard and cold but at the same time it has the melody and the "finesses" that Satyricon has become so known for. We think it's safe to say that this will one will head straight to the Black Metal Hall of Fame.Metal Hammer, 7 out of 7, Rock Hard 9.5 out of 10. Expect alot, get more.



========DARKTHRONE========


DARKTHRONE RAVISHING GRIMNESSCD/LP/PD Fog 023 Moonfog Productions 1998
1 .Lifeless
2. The beast
3. The claws of time
4. Across the vacuum
5. Ravishing Grimness
6. To the death
Excerpt from Ravishing Grimness
Excerpt from To the death
Pinehill Salvation! The new Darkthrone is coming. Beer-can Black Metal meets nature inspired Black Metal. Wonder how long it/s going to take before a band equally unique to Darkthrone shows up? Hundred years maybe? Or will we ever see it? Whether you like Darkthrone or not is not the point. Darkthrone is cult and it/s necessity to stabilize Norway, Moonfog, Black Metal,themselves and their fans. This is Darkthrone with Capital D. So you be the judge, to us Darkthrone is essential.And this is an essential album. Because it/s the Darkthrone tradition.



=======NEWS========



Gehenna have returned to Norway from their Mexican tour because of serious illness in one of the member/s family.

In connection with the making of Satyricon/s homevideo we now give Satyricon fans the chance to send in their question to Satyr and Frost which they will answer on the video. Send your questions to moonfog@online.no Subject: Satyricon video question. Remember to write down your name.

Join the campaign against the exploitation of dark art, part ll. Article written by Satyr from Satyricon

New Satyricon design - The Serpents Maelstrom 2000 now at the mailorder section .

Satyr/s tour report from the European tour with Pantera.

"Murder", the new Gehenna album will be out during the first week of September. Watch out for live dates coming here soon.

Phil Anselmo and Satyr have been working together on the Pantera/Satyricon tour writing new material for the Eibon album. The whole group is now gathered in America for songwriting and photosession. The album will most likely be ready for release early spring 2001.

Thorns will enter the studio in August to finalise the recording of the Thorns album. Thorns and Moonfog is aiming for early November release.

Satyricon will appear as one of the main attractions at Tuska Metal Festival in Finland on Saturday the 8th of July.

The winners of the Moonfog 2000 competition are 1. Kjell Arne Hubred, Norge. 2.Kamil Nowakowski Poland. 3.Olivier Gendron Canada. Packages are on their way!



======TERRORIZER POLL=======


In Terrorizer Magazine issue 75 which was a summary of the nineties in extreme music the readers voted for Darkthrone and Satyricon in the following categories:

MOST INFLUENTIAL BAND OF THE NINETIES: DARKTHRONE (7)

ALBUM OF THE NINETIES: DARKTHRONE - A BLAZE IN THE...(21) DARKTHRONE - TRANSILVANIAN HUNGER (48) SATYRICON - NEMESIS DIVINA (73), DARKTHRONE - UNDER A FUNERAL...(77) DRUMMER OF THE NINETIES: FENRIZ (9)

And the year 1999 Reader/s poll came out like this: BEST BAND: SATYRICON (5)
BEST ALBUM:
SATYRICON - REBEL EXTRAVAGANZA (7)
BEST COVER ART:
SATYRICON - REBEL EXTRAVAGANZA (10)
MOST EVIL PERSON: SATYR (10)
MOST SHAGGABLE ARTIST, MALE:
SATYR (6)




========SATYR WORDS ALL ABOUT TOURING========



Satyr tour report
The second tour report in a few months! Maybe that explains how busy we/ve been. Basically it/s been going non-stop for one and a half year. Practising intensely before the recording of Intermezzo ll which took place in January 1999, photosessions for the albums in England, then back to the rehearsal room, then in March we started doing Rebel Extravaganza. Frost was done in about 10 days but I kept on working in the studio and he started preparing the live-set with the live line-up, early May I joined them and we did one show in Denmark by the end of the Month. Back in the studio for me, working constantly until the end of June, then a few festivals, more work in the studio, mastering and so on. When the album was done we did hundreds of interviews, photosessions, press tours and so on. After that it was time to rehearse a new live line-up and that took some time. I guess we worked pretty much all the time the entire autumn.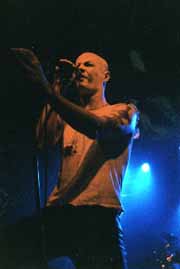 January - European headliner tour, February - Norwegian mini tour, March/April - American headliner tour, April/May special guests for Pantera. And now; a couple of festivals and we/ll take a well earned break! Satyricon is not afraid of blood and sweat. We do music because we love it, because it/s our call. I don/t like all the things we have to do, but sometimes you have to accept things that you don/t like in order to get somewhere with your music. I have a stubborn belief in the possibility to get big without making musical compromises. I want to get Satyricon out everywhere, this is what I want you to listen to, because I sincerely believe it/s better than anything else. In that sense going on tour with Pantera is the right thing to do as they are a million selling band and we/re not.

My thought was that Pantera performs aggressive Thrash Metal music or whatever you want to call it, then some people might be able to relate to our music as well as it is very aggressive at times. I presumed that Pantera(and I was also right) had a lot of fans into Coal Chamber, Limp Bizcuit, Korn and all that. I never saw those people as my main target, although it would be great if we could make em see the magic of dark music! My main target was those people who like Pantera, Slayer, Ministry, Black Sabbath, Testament etc. I guess you know what I mean. I also looked forward to playing in Spain, Slovenia, the UK as well as a lot of cities we haven/t played before.

What can I say ? About 85 % of the shows were good! Standouts in a positive sense: Oslo(playing your hometown is always special), Milan(Satyricon has a special love for the crowd there, so real), Llubljana(hated the venue and a lot of people turned up way too late but great dedication anyway), Barcelona (quiet, but very appreciative in a weird way), San Sebastien( hated the venue there as well, but the crowd was good and blackhearted) and finally Paris ( Difficult task as we had some technical problems but regardless one of the coolest shows I ever played. Dark , big, sixthousand maniacs, uh!) May I also give credit to the crowds in Montreal, Chicago and New York from the US tour, you did well!


Standouts in a negative sense: All German shows (we expect nothing, give everything and get nothing, awesome!), Lyon (Satyricon played like gods that night , the sound was black as fuck, still though most of the crowd was really lame, they were like that to Pantera as well compared to other nights), Wolverhampton (mostly boring farts, boring place), Pesaro (Light coming through the ceiling, like playing in daylight, enormous distance between the stage and the crowd, wannabe crowd that we/re up to no good), Brussels (Rapmetal fans all of them, I don/t know what they did there as Pantera/s music seemed way too extreme for them as well)

The rest of the shows were good shows, not mediocre not fantastic, just good. Some good from the beginning to the end while as others we fought to turn them over and we managed by the end of our set. Satyricon had a good tour with good response! We were mostly treated well by Pantera and their people and Phil always kept an eye on us as he wanted to make sure that we had a good time and did well as we are friends and he/s a huge Satyricon fan. Some people complained and said that we should have been second on the bill and I understand you.

Powerman 5000 is very big in the States, but not in Europe and we should have been number two on the bill. However these are decisions made in America which I couldn/t influence and therefore it became like that. I think everybody knew by themselves that this was the situation, but it didn/t really bother me. For Powerman it was like being squeezed in between two bulldozers anyway. 35 minutes of Black Metal terror from a Satyricon that has become a very solid liveact and then Pantera, one of the most experienced live bands in Heavy Metal today. It/s hard to play between two such bands. I don/t know, they/re a different style anyway and they did what they/re about.

I hope that when we go out next time, a lot of the people who checked us out on this tour will come and see our headlining shows when we shine in full glory. I have fulfilled my goals touringwise anyway. I said to the recordcompany, to the press and to all my friends. I want to do a headlinertour in Europe with full Satyricon splendour(pyro, filmprojectors e.t.c.) an American headliner tour, I wanna play all major cities in Norway and I want to go out with a big band as support to reach to people who are not familiar with us from before. WE DID EVERYTHING! Give me credit for that.Next thing I want to do is to go out on a big tour as support in America, we/ll see....

Alright I want to end this thing of by telling you that we are working on new material for our next album and will most likely go in the studio next year. To the people who showed dedication at the shows I regard as bad ones like Germany, thank you for being stars among grey clouds, to the people who were at all the great shows we had, bless you all! To the people who complained that Phil was up on stage singing the chorus of Havoc Vulture, please shut the fuck up right now, the man has a heart for Darkthrone, Satyricon, Immortal, Venom, Frost, Bathory, Bulldozer, Infernal Majesty, where/s your heart ? He/s a fan of Satyricon and a friend. Understand that and don/t come up with all these wild pretentious suggestions that he is this or that. To Cronos of Venom, thank you for singing with me on stage in Glasgow, it was a great honour for me! To the bands who want to reach out and make extreme and dark music replace rap metal or even so called power metal, please be ambitious and fight to reach out there. Be strong, work hard. Just remember your integrity. We/ll always do. Satyricon is uncompromising and we/ll always be. Thank you for listening.

Satyr May 2000



read more info on the label at: MOONFOG productions





HOME | NEWS | SITE INFO | MAGAZINE | OUR RELEASES | MAILORDER | LINKS | EMAIL