Magazine from Spain



Birthing from two Portuguese underground projects, Icon Prod & Hecatombe Promotions, that had decided join forces in order to create a new magazine ( replacing their previous publications: Icon magazine & Hecatombe 'zine), ICONTOMB MAGAZINE (or fanzine, as you prefer) , has finally rose from the deepest dark !!!

We are mainly focus on the underground metal, aiming bring you always the most extreme and creative acts around.

Another aspect of our magazine it's include always a Special Scene Report per issue dedicated to a particular country, in order to give you a more detailed vision of what's happen on the different scenes.

No need to tell that, we hope also improve our magazine issue after issue [in fact our next issue will include already a FREE CD COMPILATION/CD-ROM!!] This site will keep you informed about our upcoming issues, so bookmark/add to favorites NOW!!!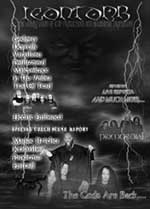 Delivering 48 A4 B&W glossy pages written in English, our first issue feature interviews with:

PRIMORDIAL, HECATE ENTHRONED, MALEVOLENCE, VOMITORY, VARATHRON, GODGORY, DEPRESSY, IN THA UMBRA, POSTHUMOUS, INFERNAL DREAMS, DARK STORY, TRAILS OF TEARS, MONASTERIUM... a Special Czech Scene Report featuring also interviews with ROOT, KRABATHOR, ENTRAILS, PANDEMIA, MANIAC BUTCHER. A large of reviews (demos, CD's, Vynil and 'zines), live reports as well an interesting article about "Knights Templer and the Baphomet Myth". All this with a killer lay-out!!!

Just get your copy sending only 700$00 ( Para Portugal: 500$ + 200$ em selos, ou cheque/vale postal em nome de Hernani Francisco ou Ricardo Ribeiro), $5 US / DM 10 / 5 EUR (Europe), $6 US / DM 12 / 6 EUR (World). Post-paid included.



read more info on magazine at:ICONTOMB mag.



HOME | NEWS | SITE INFO | MAGAZINE | OUR RELEASES | MAILORDER | LINKS | EMAIL