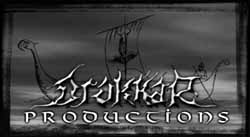 Black metal label from France....




==========NEWS==========



The new album of Decayed (Por) 'The Book Of Darkness' is now released.

Tsjuder from Norway have just signed a deal with Drakkar Productions. This band plays brutal Black metal in the vein of the first Gorgoroth Lp and old norvegian band. Their debut CD/LP will be out the 15 of January 2000.

The return of Darkness and Hate comp CD will finally be available in april 2000, you will find unreleased materials of Mutiilation, Grimlord, Celestia, Hirilorn, Yamatu, Count Nosferatu, Garwall, Temple Of Baal, Nebiros, Demon Realm...



==========RELEASES==========



MUTIILATION (Fra) " Vampires of Black Imperial Blood " - 1995
The first cult release of Drakkar Productions. Both version are now totally sold out.

TORGEIST (Fra)/VLAD TEPES (Fra) " Black legions metal " - 1996
The two most hated and extreme old Black metal hordes offered us a really sick morbid releases. Not for the today trendies ears. The Cd is today sold out and will never be repressed.

NAHASH (Lit) " Wellone aeternitas " - 1997 soon sold out
The most darkest baltic band. Dark and lycanthropic raw Black metal. The 5 last copies are still available. Act fast...

ANAON (Fra) " Les rites de Cromlech " MCD - 1998 soon sold out
Anaon plays Celtic symphonic Heavy/Black metal. All the tracks are sing in French. 3 metal tracks plus two symphonic parts.

HIRILORN (Fra) " Legends of evil and eternal death " - 1998
50 minutes of Epic and melodic Extreme Black metal.

CELESTIA (Fra) " A cave full of bats " MCD - 1999
4 Tracks of fast and ethereal Extreme Black metal.

WARLOGHE (Fin) " The First Possession " - 1999
700 copies were sold in one week. One of the most extreme band from Finland. This is pure unholy Black metal for the nostalgic of the great days of Black metal (1992/1994). The CD version is sold out. The Lp version contains one unreleased track (last copies).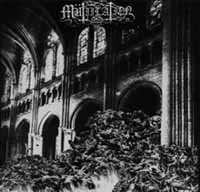 MUTIILATION (Fra) " Remains of a ruined, dead, cursed soul " - 1999
The unreleased album from 1993 from this cult band + 2 unreleased tracks from 1996. Recorded just before the death of Meyna'ch. Cursed Black metal.

DECAYED (Por) "The Book of Darkness" 99
Crude old way Black in the vein of Bathory/Venom.



read more info on the label at: DRAKKAR Rec. official site



HOME | NEWS | SITE INFO | MAGAZINE | OUR RELEASES | MAILORDER | LINKS | EMAIL