band from USA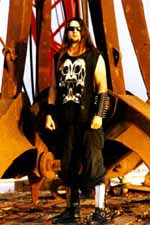 REVIEW PUBLISHED BY THE GRIMOIRE OF EXALTED DEEDS
SUPREME EVIL (Cunt Quest)

This album is so heavy I thought I was daydreaming! Spock, this phaser is set to disintegrate. Have you ever been invited to a party only to find out it's just a hang out? People should not use the word "party" unless there really is one. Well, when I say this is brutal death metal, I'm not talking out of my ass. It's got a tad bit of Florida flavoring, in the most positive sense of the word. But the production is delicious. The extra care of this gourmet dish has really brought out the sinister quality of the riffs, and the flawless capture of every drum nuance makes this a cruel rendering of aggression. The old school vocals renew a belief in the strength of that approach, for weaker mortals have watered down the style into bland sauce. This is gravy your fat mother used to ruin your health with. For something so heavy, I feel kind of gay because I can't wipe the smile off my face. It's like I was given a gift by a secret admirer.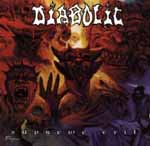 REVIEW PUBLISHED BY CORPSE GRISTLE ZINE
City of The Dead

Satanic blasting sickness with hyperspeed drumming. Definetly influenced by old Morbid Angel, but much more brutal !! Probably the best band out of Tampa since Glen Benton and Co. I'm not a big fan of the bay area style, but these guys are really impressive. Good songs, solid musicianship, and quality production. Just like the card says, "This is for speed demons worldwide!!

read more info on hte band at: DIABOLIC





HOME | NEWS | SITE INFO | MAGAZINE | OUR RELEASES | MAILORDER | LINKS | EMAIL