Black metal band form France



November 1996, Orias & InVein decide to quit "Artemis", a Heavy formation after severals attemps to integrate their influences (Doom for InVein, Dark & Goth for Orias). So, they create their own band for they could explore the horizons they choosen and free themselves from the limitation of Heavy & Speed Metal. Let there be "Sustain My Misery", with Orias & InVein, who will be joined by Kryvhan & Haborym. The band, at then, tries to discover the secrets of The Doom Atmospheric, and begin to grow more extreme, more symphonic...

From this evolution, is born on November 1997, De Profundis. Its style is called Atmospheric Orchestral Black by severals, due to the combination between ambiant keyboards and very violents ryhtmics. Some said Progressive Black because of the presence of longs tunes, with texts written like poetry or in a theater concept, with severals accoustics or symphonics parts.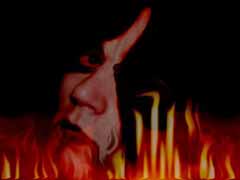 At this point, the band felt the need to finalize and so, to record "Severence" at the Studio ClockWork. This experience allowed to understand the production requirements and how important is the sound work. Anyway, "Severence" was appreciated by the nearly scene, the undergrounds papers (Metallian, Black Snow, ElectroShock, Necrotica...) and the labels (Ancestral Crafts, Holy Records, Thunder, Osmose, Mascot, Season Of Mist, Nocturnal Music...); this allowed De Profundis to plan more shows and to see furthers propositions for more importants releases.

September 99, the band integrates two news members: Sadneth (ex-Delbaeth) as vocals and A.S.T as machines. For now, songs composition is the path of Orias, unique guitar, working with A.S.T dedicated to the sound plasticity and Sadneth for the texts written in differents languages. De Profundis is to be known to create his own way, birth from emanations, influences from the members of the band. March 2000, De Profundis is joined by Lord Caedes (Necros Romantia, Requiem Records) on the bass guitar. De Profundis has released 11 compositions, 6 are on "Severence", 2 on "Winter Of Oblivion & Pain " released in December 99 (Studio ClockWork again). They will be on the first album "Le Siecle des Cendres", to be release on Nocturnal Music (Napoli, Italy) with the news creations of ours souls. The total playing time of the album is 66,6mns...


read more info on the band at: DE POFUNTIS official site
HOME | NEWS | SITE INFO | MAGAZINE | OUR RELEASES | MAILORDER | LINKS | EMAIL