DARK HORIZON
Black metal label from Usa




=======RELEASES======


NEBRON "THE MESSAGE" CD OUT NOW!!
This is Fast Raw and Technical Black Metal. Enchanting Melodies, with Melodic Solos, Combined with very Harsh Vocals! Not for Trendy Ears!! NEBRON stand apart from the Typical as a Fine Dark Musical Force!! One listen and the power of Nebron will infiltrate your soul!!

We Now Unleash Upon the World The Most Destructive, Barbaric, Onslaught of Unholy Warmetal!! BLACK WITCHERY Grant us 5 Tracks of Grim and Ugly War Black Metal, including a cover of the song Demoniac in Tribute to the Mighty Blasphemy!! Then, the Legendary Anti-christ Superiority demo of CONQUEROR does then finnish off this CULT MASTERPIECE! Non-Stop Pure Chaos! No Pretty melodies here! NO Trends!! Prepare for War!!!!! 12" LP limited to 666 Copies!!!

UPON A DARK HORIZON UNDERGROUND COMPILATION VOL 1 CD
Sorhin, Fog, Nagelfar, Hordes of the Lunar Eclipse, Aeternus, Mundarnus Imperium, Nocturnal Breed, Vomitory, Wallachia, Bethel, Hellwitch, Legion, Primordial.

BLACK WITCHERY "SUMMONING OF INFERNAL LEGIONS" 7" EP
Is out now on Dark Horizon Records. Proving to All the Underground is Alive and Well. BLACK WITCHERY Play Unholy Barbaric War Metal that Crushes the Weak, And Christianity! The Most Grim and Hateful Band Ever to Emerge From the Underground of America!!! Get this CULT Piece of Vinyl or Go Fucking Kill Yourself!! Limited to 1000 copies!!! ONLY 130 COPIES LEFT!!!




=====FUTURE RELEASES=====


LEGION "CONQUEROR" CD
Experience Brutal American Death Metal, Dark and Powerful, Leagues above the Clone Generation of Gore Death Metal Bands! Legion Combine finer elements of early death metal with the fury of the Modern Sound! Capturing a great production while also keeping a very underground atmosphere in the overall mix. Pounding and Crushing Death Metal!!!
HARVIST "A GLEAM IN THE NIGHT" CD
Dark Horizon brings to you Harvist. From the Dark Forests of West Virginia comes this Raw Dark Pagan Black Metal. Soon the World will hear the Depressive, Hateful, and Suicidal calls of Dusk and his Harvist! Proclaiming the End... Of This Age of Man!! Pure Elitist!! Eternally Hate Everyone!!! The World Must Be Destroyed!!! Sure to be one of the most Hated in America!!!!
LUCIFUGUM "INSTINCT PREVELANCE" CD
This cd will be released sometime early this year, May/June 2000. We Bring to you one of the Truest Black Metal Hordes from the Ukraine!! This cd is Very Primitive Pure Evil!! This Band is Keeping the Flames of True Blackness and the Hailing of Darkness Alive!! NO TRENDS HERE!!!! Cold, Abrassive, and quite original.
BRIMSTONE "THE ILLUSION OF SERENITY" CD
North American Witching Metal is how this NY group describes the sound they have developed. Blazing songs filled with dark raw originality that is totally fucking cult !!. Blending thier infuleneces of black and thrash metal, this cd contains a cover of Sodom's Outbreak of Evil as well as a bonus track of an earlier recording of the Song What Rides on the Wind Must Be Slain. (featuring Lord Typhus Mirinor of FOG on guitar and Vocals!). True Lost Heirs of Salem!! These Satanic Warlocks play Fast, Furious, Cold and Truly Evil Music!!! Let Witchery Prevail !! Featuring Members of Morpheus Descends, Incantation, Nokturnel!!!
MORPHEUS DESCENDS "FORBIDDEN PATH OF UNTHINKABLE EVIL CD digi pak
The spring of 2000 will mark the return of NY's cult death metal band MORPHEUS DESCENDS !! Their first release in over 3 years, "Forbidden Path of Unthinkable Evil" on Dark Horizon Records is the group's only release since the release of their "Horror of the truth" MCD. This band helped shape the now famous NY sound !! To mark the 10 years of creation, Dark Horizon will release this digi pak cd for real fans of death metal !! Contains new stuf, a cover of Venom's Angel Dust, unreleased tracks and thier 5 track classic Adipocere formerly released as a double 7"EP (now first time on cd !)
FOG "THROUGH THE EYES OF NIGHT WINGED THEY COME" 12" LP
A rising unholy mist, FOG will engulf the World! The Debut Cd "Through The Eyes of Night Winged They Come" will be released in the Spring! Most likely through DWELL RECORDS. Dark Horizon will Release the 12" LP version in a limited pressing!! Fog is an unholy alliance bound in unholy brotherhood all with only one desire, To Forge Pure Dark Metal. It is their pact together as this unholy clan, to bring forth the glorification of darkness through creating music of pure Evil and Hatred! This is well executed melodic, & furious Blackend Fog Metal!! This is Sure to create a wave in the American and World Metal Scene!!
FLAUROS "THIRD CURSE" 7" EP
Dark Horizon will bring fourth the vinyl offering "Third Curse" from Finland's Flauros. This release will bring Dark Horizon and Flauros to a New level! Flauros play Excellent, Melodic, yet very Grim Black Metal. Well Executed, Unique and Origanal compositions that will set the soul ablaze of any true fan of REAL Black Metal! These songs are vinyl released only and will not be available on any other recording! Limited to 666 Copies!!!


---
Other scheduked releases for spring and summer
======================


HORNA "PERIMA VIHASSA JA VERIKOSTOSSA" / FOG "WHISPERED MYTHS" SPLIT 7" EP
DETHRONED "PERSERVERANCE OF AGGRESSION" CD
FLAUROS "TBA" CD
BLACK WITCHERY / FOG SPLIT 7" EP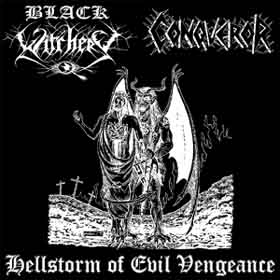 BLACK WITCHERY / CONQUEROR split CD/LP



A great, also vinyl supporting label, check their site now, listen to MP3 +++ at: DARK HORIZON Us black metal label



HOME | NEWS | SITE INFO | MAGAZINE | OUR RELEASES | MAILORDER | LINKS | EMAIL