Death metal band from Brazil






==========BIOGRAPHY=========



By the first years of the eighties, from the meeting of Heavy Metal and Northern European Hardcore, there appeared bands that would change the face of heavy music forever. Venom, Hellhammer, Bathory, Sodom, Possessed, Mantas, Mayhem, and others originated the present Death/Black Metal. In the years that followed, the brazilian bands had ultimate influence, with the works of Sarcofago, Mutilator, Vulcano, Dorsal Atlantica, and the old Sepultura.

Apocalyptic Raids was formed in 1997 with the objective to continue the 80's sound, adding renewed aggression to the original. The band's name is a citation done on purpose, symbol of a buried but not forgotten era. Some songs were originally written in the years from 85 to 89.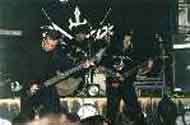 The members are veterans who pile up the experience of more than a decade in Rio's scene, and some songs were originally written between 85 and 88. Leon Manssur – "Necromaniac", guitar and vocals (formerly on Devastation, wich became Explicit Hate, and formerly on Nightbreed), Gustavo Belo – "Adramelech", drums (formerly on Nocturnal Worshipper, Nightbreed and many others). Eduardo Mortaza, bass, leaves the band in January, 2000 in order to dedicate himself exclusively to Nocturnal Worshipper and is replaced by A. Aguinaga – "Sub Umbra" (formerly on Songe D'Enfer and also on Poeticus Severus)

After many months spent on rehearsals, Apocalyptic Raids has now twelve brutal compositions, having recorded a Demo-Rehearsal (CD-R) in March, 1999. The group has done some gigs in Rio, where a VHS was recorded, and now concentrates on the recording of their debut CD.



read more info on the band and check their mp3 at: Apocalyptic Raids



HOME | NEWS | SITE INFO | MAGAZINE | OUR RELEASES | MAILORDER | LINKS | EMAIL